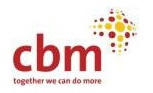 CBM is an international Christian development organisation, committed to improving the quality of life of persons with disabilities in the poorest communities of the world.

The employment of people living with disabilities in the private sector is still in
its infancy in India. Although the appropriate legal provisions exist, the actual inclusion of people
living with disabilities in vocational training and employment requires further targeted measures. In
addition to promoting private sector partnerships, this also includes the exchange of knowledge
and experiences with countries that already have good practice examples in the field of inclusion.
CBM India trust through the Centre for International Migration and Development (CIM), a joint operation of GIZ (www.giz.de) and the German Federal Employment Agency (www.arbeitsagentur.de), is looking forward to intergrating a new role into New Dehli´s organisation as an:
"Inclusion Coordinator (m/f/d)"
The future job holder will adhere to CBM's values and commits to CBM's Code of Conduct and Safeguarding Policy.
CBM encourages persons with disabilities to apply for this position. For further information about CBM's inclusion policy, please visit our Resources & Publications section at www.cbm.org. If you feel that this role would be a good opportunity for you, we invite you to visit the link below in order for you to submit your application:

https://jobs.cimonline.de/index.php?ac=jobad&id=45567